January 4 to November 22
Live Jazz Brunch
Five Bar, 430 Gay Street

A live jazz band every Sunday from 10am-3pm during brunch service.
five-bar.com
Through February 28, 2015
Smoky Mountain Winterfest
Gatlinburg, Pigeon Forge, Sevierville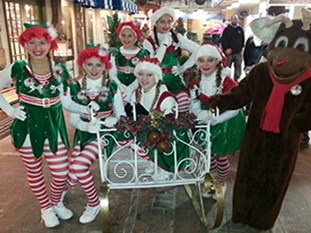 Smoky Mountain Winterfest is in its 25th season. It features more than 12 million lights, enchanting light displays, unique shopping, award-winning shows, family attractions, lots of special events, and the beauty of the Great Smoky Mountains.
www.knoxvilledailysun.com
January 1-31
Metamorphosis: Angel-Phoenix Figures
Burlington Public Library
4614 Asheville Hwy, Knoxville, TN
Metamorphosis: Angel-Phoenix Figures; Art By Theophilus

January 1 to February 1
Made in Tennessee: Milestones in Manufacturing Exhibition
East Tennessee Historical Society, 601 S. Gay Street, Knoxville, TN 37902
Today's Tennesseans, while not totally abandoning their agricultural heritage, have moved into an age of advanced technology and global competition symbolized by elelctronic, chemical production, and automobile manufacturing. Tennesseans may wear cowboy hats and listen to the Grand Ole Opry, but at work they are more likely to produce automobiles or sophisticated machinery than to till a small farm or make country crafts.
www.easttnhistory.org

January 1 to March 20
Dogwood Arts Festival: Art in Public Places
Art in Public Places Knoxville is a monumental installation of large-scale outdoor sculptures by regionally and nationally acclaimed artists. The sculptures are located in downtown Knoxville as well as McGhee Tyson Airport.

January 1 to March 21
America's First Investigation based Ghost Tour
Haunted Knoxville Ghost Tours
22 Market Square, Knoxville TN
Hands on paranormal investigation of Knoxville's traumatic past. You will be taken to factual ground zeros of traumatic happenings, but participants are given real ghost hunting equipment to use.
www.hauntedknoxville.net

January 1 to April 8
Arts in the Airport
McGhee Tyson Airport
An exhibition featuring selected artwork from 36 artists in the East Tennessee region. Features contemporary 2- and 3-dimensional artwork and is exhibited in the secured area behind McGhee Tyson Airport's security gate checkpoint. The exhibition is normally available for viewing only by visitors flying in or out of the airport. The following artists' works is on display: Sheila Chesanow of Athens; Anne Freels of Clinton; Veronica Fay of Crossville; Amy Masters of Gatlinburg; J. Brooks Brann, David Butler, Valentino Constantinou, Delia Foster, Marcia Goldenstein, William Goolsby, Beauvais Lyons, Tom McDaniel, Rose Montgomery, Althea Murphy-Price, Dick Penner, Indra Sahu, Jenny Snead, Daniel Taylor, Clay Thurston, Mary Julia Tunnell, Marilyn Avery Turner, Richardson Turner, Hawa Ware, Lida Rice Waugh, and Kurt K. Weiss of Knoxville; Steve Chastain of Louisville; Mary Bogert, Carl Gombert, Adam Griffin, John Patterson, and Bill Womac of Maryville; Eric Buechel of Pleasant Hill; Yvonne Bartholomew-Thomas of Seymour; Pat Clapsaddle and Marty McConnaughey of Sharps Chapel; Tyson Smith of Townsend. A gallery of images may be viewed at www.knoxalliance.com/album/airport_fall14.html

January 1 to May 29
"Hearth and Home" Exhibit
Farragut Folklife Museum
11408 Municipal Center Dr, Farragut, TN 37934
The exhibit showcases interesting artifacts from the museum's permanent collection that have not been displayed in many years or have never been on display. Spanning numerous decades, featured items include personal household items such as electronics, tools, clothes, hats and hat boxes, children's toys, and more. In addition, the vignette in the Doris Woods Owens Gallery will display furniture and household items from an 1890s-era bedroom.

January 1 to June 30
Lark in the Morn English Country Dance
Jubilee Community Arts
1538 Laurel Ave, Knoxville, TN 37916
17th-18th Century Social Dancing with live music. Sundays at 8 p.m. This is a performance group and newcomers are welcome. No partner necessary. Also Rapper Sword dance meets most Sundays at 7:00 PM. Free. Call 865-546-8442.
www.jubileearts.org

January 1 to September 10
Tennessee Tastes & Toasts Cocktail Tours by Knoxville Food Tours
Club LeConte
800 S. Gay Street Suite 2700, Knoxville TN
Follow Paula — make your way through Knoxville like a local, learn the history of the city, and sample delicious foods!
www.knoxvillefoodtours.com

January 1 to December 31
Architectural Salvage Program
Knox Heritage, 1300 N. Broadway, Knoxville, TN 37917
Browse through a collection of salvaged architectural pieces such as doors and hardware, wood flooring and trim, pedestal sinks, light fixtures and more. Open Thursdays from 1:00-5:00 PM.
www.knoxheritage.org

January 1 to September 9
Wine Down Wednesday with Acoustic Guitarist Thomas
Blue Coast Grill & Bar
37 Market Square, Knoxville TN
Enjoy half-off select bottles of wine as you listen to acoustic guitarist Thomas out on the patio starting at 6:30 pm.
www.bluecoastgrill.com

January 2-31
Art Market Gallery: Work by Eun-Sook Kim and Harriet Smith Howell
422 S. Gay St, Knoxville, TN
Featured artists are Eun-Sook Kim of Oak Ridge and Harriet Smith Howell of Rutledge. The opening reception during downtown Knoxville's traditional date for the First Friday Art Walk will begin at 5:30 p.m. on Jan. 2, with light refreshments and Bluegrass music performed live by Caring Committee.

January 2-31
Bliss Home: Phil Savage
29 Market Square, Knoxville, TN
Photographer Phil Savage is featured artist. Opening Reception, Jan. 2, 6:00 PM - 9:00 PM
Phil Savage was born in Mexico City and is a world-traveler, which has helped him hone his ability to "turn the ordinary into the extraordinary". Phil loves to explore the endless possibilities that photography has to offer by embracing black and white panoramic photos with hand-tinted touches. Phil's art exhibit aims to challenge viewers to rediscover the beauty and complexities that can be found all around Knoxville.

January 2 to April 18
Civil War History Cruises
Star Landing
300 Neyland Drive, Knoxville TN
NavCal River Rides Civil War History cruises use an 1864 map to help show you Civil War sights along the river. Descriptions of significant fortifications, background and aftermath of the battle of Fort Sanders. Learn about this heavily divided area and its importance because of the river and the railroad.
navcal.com

January 4 to November 22
Live Jazz Brunch
FIVE Bar
430 S. Gay Street, Knoxville TN
A live jazz band every Sunday from 10am-3pm during brunch service.
five-bar.com

January 9-25
Daddy's Dyin': Who's Got the Will?
Theatre Knoxville Downtown
319 N Gay Street, Knoxville TN
Set in a small Texas town, Daddy's Dyin' concerns the reunion of a family gathered to await the imminent death of their patriarch, who has recently suffered a physically as well as mentally disabling stroke. But it is not the story of the impending demise of the father or of the drafting of his will ... it's a story of a rebirth of the spirit of the family unit. Thursday, Friday, Saturday @ 8:00 pm; Sunday @ 3:00 pm
Tickets: Thu, Fri, Sat: $15; Sun matinee: $13
www.theatreknoxville.com




January 22-23
Knoxville Symphony Orchestra: Tchaikovsky Symphony No. 4
Tennessee Theatre
604 S Gay Street, Knoxville TN
Hear the KSO perform Berlioz' Roman Carnival Overture, Tchaikovsky's powerful Fourth Symphony, and Shostakovich's Concerto for Cello and Orchestra No. 1 featuring renowned cellist Julie Albers, and guest conducted by Lawrence Loh.
Tickets: $15 and up
www.knoxvillesymphony.com

January 22
Moon Taxi
Bijou Theatre
803 S Gay Street, Knoxville TN
A five-piece jam and alternative rock outfit hailing from Nashville, Moon Taxi quickly built a local following, which soon led to a record deal with 12th South Records. Members Trevor (vocals), Spencer (guitar), Tommy (bass), Wes (keyboards), and Tyler (drums) released their debut album, Melodica, in 2007. Their next step, logically, was to keep their audiences happy and promote their album the old fashioned way: many, many gigs. A concert album titled Live Ride followed in 2008, and their second proper album Cabaret appeared in 2012. Moon Taxi signed to BMG for distribution of their 2013 album Mountain Beaches Cities.
www.knoxbijou.com

January 23
Knoxville Ice Bears vs. Columbus Cottonmouths - 7:30 p.m.
Knoxville Civic Coliseum Auditorium
500 Howard Baker Jr Avenue, Knoxville TN
knoxvilleicebears.com

January 23
Miranda Lambert with Justin Moore
Thompson Boling Arena
1600 Stadium Drive, Knoxville TN
Fresh off the success of her highly successful, summer Platinum Tour, CMA Entertainer of the Year nominee Miranda Lambert is excited to announce her upcoming Certified Platinum Tour.
Tickets: $54.75 and $34.75
www.tbarena.com

Janaury 24
Yonder Mountain String Band
Bijou Theatre
803 S Gay Street, Knoxville TN
Bending bluegrass, rock and countless other influences that the band cites, Yonder has pioneered a sound of their own. With their traditional lineup of instruments, the band may look like a traditional bluegrass band at first glance but they've created their own music that transcends any genre. Dave Johnston points out "What could be more pure than making your own music." Yonder's sound cannot be classified purely as "bluegrass" or "string music" but rather it's an original sound created from "looking at music from their own experiences and doing the best job possible." The band continues to play by their own rules on their new record The Show.
www.knoxbijou.com

January 24
Knoxville Opera Goes to Church . . . A Celebration of Talent! - 5 p.m.
Greater Warner Tabernacle AME Zion Church
3800 Martin Luther King Jr Avenue, Knoxville TN
Home Federal Bank presents 'Knoxville Opera Goes to Church… A Celebration of Talent!' Admission is free. The 6th annual concert will feature the Knoxville Opera Gospel Choir and local soloists with Knoxville Opera artists in a presentation of gospel, spirituals, opera and Broadway highlights.
www.knoxvilleopera.com

January 26
WDVX: Tennessee Shines - 7 pm
The Hello Strangers
Knoxville Visitor Center
301 S. Gay Street, Knoxville, TN
Tennessee Shines is WDVX's weekly live radio show. The audience is treated to the hour long radio show plus an extended set after the show goes off the air. Tickets: $10; Students: Free w/ valid ID; Children 14 & under: Free. Tickets are available in advance Monday through Friday at the WDVX Blue Plate Special and at BrownPaperTickets.com.

January 28
KSO Q Series at The Square Room: Woodwind Quintet
Cafe 4 & the Square Room
4 Market Square, Knoxville TN
Join one of the talented KSO ensembles for this exciting new lunch series. The Q Series in The Square Room features a performance by the KSO Woodwind Quintet and a boxed lunch from Cafe 4.
Tickets: $15 in advance; $20 at the door
www.knoxvillesymphony.com

January 29
Umphrey's McGee
Tennessee Theatre
604 S Gay Street, Knoxville TN
UM has built a rabid fan base through endless touring, putting them on the road 100+ nights a year. Their constantly evolving sound channels a wide spectrum of influences while still preserving their distinct voice through crafty songwriting. With a massive repertoire of originals and note-perfect covers, their live shows are like flipping through the presets on your radio dial. Their A.D.D. approach to "progressive improvisation" utilizes a set of Zappa inspired hand signals allowing them to orchestrate their melodic creations on the fly.
www.tennesseetheatre.com

January 29
Sturgill Simpson
Bijou Theatre
803 S Gay Street, Knoxville TN
Sturgill Simpson's authenticity stands out like an island of hope in a sea of tacky. Pure and uncompromising, devoid of gloss and fakery. Bonafide mountain hillbilly soul. Formerly the leader of Sunday Valley, an energetic roots outfit that made some waves in the early years of the new millennium, Sturgill Simpson gained greater renown as a solo artist, thanks in large part to his muscular 2013 solo debut High Top Mountain. An outlaw country record in form and feel - its debt to Waylon Jennings clear and unashamed - High Top Mountain became a word-of-mouth hit in 2013, thereby establishing Simpson's country credentials and opening the door to a wider future.
www.knoxbijou.com

January 29
Knoxville Ice Bears vs. Fayetteville Fireantz - 7:30 p.m.
Knoxville Civic Coliseum Auditorium
500 Howard Baker Jr Avenue, Knoxville TN
knoxvilleicebears.com

January 29
Wine and Canvas
The Original Copper Cellar
1807 Cumberland Avenue, Knoxville TN
Come down to the Original Copper Cellar and paint "Black Wind". They've got a great menu and wonderful wine selection to help with your masterpiece! Food and beverages not included.
www.wineandcanvas.com/knoxville-tn.html

January 30
Ron White
Tennessee Theatre
604 S Gay Street, Knoxville TN
Comedian Ron "Tater Salad" White first rose to fame as the cigar-smoking, scotch-drinking funny man from the Blue Collar Comedy Tour phenomenon, but now as a chart-topping Grammy-nominated comedian and a feature film actor, Ron White has established himself as a star in his own right. White has always been a classic storyteller. His stories relay tales from his real life, ranging from growing up in a small town in Texas to sharing stories of his daily life to becoming one of the most successful comedians in America. All 4 of his comedy albums charted #1 on the BillboardTM Comedy Charts. He has sold over 14 million albums (solo and with the Blue Collar Comedy Tour), been nominated for two Grammys, and over the past 9 years (since 2004) been one of the top three grossing stand up comedians on tour in America.
www.tennesseetheatre.com

January 30
Gaelic Storm
Bijou Theatre
803 S Gay Street, Knoxville TN
Over the course of 10 albums and nearly 3,000 live shows, Gaelic Storm — the chart-topping, multi-national Celtic band — is dishing up a hearty serving of Full Irish - The Best of Gaelic Storm. The greatest-hits album spans the bulk of the band's career, mixing crowd favorites and concert staples with three previously unreleased recordings, including "Whiskey in the Jar" and "Irish Party in Third Class" from Titanic. The album features sea shanties and drinking songs, traditional tunes and Gaelic Storm originals, instrumental workouts and vocal showcases. Regularly playing more than 120 shows a year, Gaelic Storm has built a loyal following as diverse as the band's own music. Fans of traditional Irish music have championed the group for years, as have fans of harder-edged Celtic rock. On tour, Gaelic Storm is just as likely to play a large rock club as a plush theater. The band makes regular appearances on cruises, too, joining artists like the Barenaked Ladies and Michael Franti. Gaelic Storm has straddled the line between tradition and innovation for nearly two decades, infusing traditional Celtic music with modern influences, and updating the genre for a new generation of fans raised on rock, country and folk. Along the way, the group has topped the Billboard World Chart four times and earned a reputation as a hard-touring, genre-bending band.
www.knoxbijou.com

January 31
Chocolatefest
Knoxville Expo Center
5441 Clinton Highway, Knoxville TN
It's a truly sweet event to benefit Knoxville's Ronald McDonald House. Enjoy Chocolate, Candy, Cakes, Cupcakes, and more. There will also be live entertainment, fun for the kids, and a silent auction. Includes a variety of events including live entertainment, a silent auction, face painting, and more!
Admission: Free; Chocolate Tasting Pass: $15
You will be given a box (or you may bring your own) that you take from booth to booth picking up their delicious samples and shopping to your heart's content.
www.chocolatefestknoxville.com

January 31
Ijams Gardening Series: Seed Swap
Ijams Nature Center
2915 Island Home Avenue, Knoxville TN
Annual seed swap at the Visitor Center. For all ages. Ijams' Seed Swap is a free event to promote the sharing of vegetable, flower and other seeds among area gardeners. Everyone is welcome, with or without seeds!